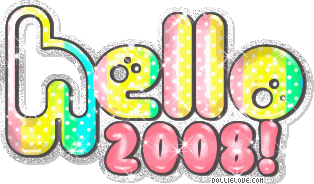 Yep, 8:00 am on New Year's Eve and I'm awake to verify that all's well in the computer kingdom and at least in Lehi, Utah. We were able to ring in the New Year last night at my brother's house...the first time every one of us made it to midnight! It was a Christmas Miracle! Everyone was so tired and the kids were getting their second winds running around like loons with balloons after a round of attempted balloon animal making gone awry. The two, 2-year olds, surprisingly were the best behaved of the bunch and about 11:45pm it was all about the 'poppers'. Big Easy had purchased some of those little poppers and sadly, that was the highlight of their evening. We had to take 'baby steps' to midnight...staving them off with Dick Clark's "New Years Rockin' Eve". Poor Dick needs to retire, he looks like an animatronic from Disneyland.
After a long commercial for the new season of "Lost" the show came back on and it was suddenly 11:58pm. The vP's threw on their coats and shoes (so we could leave as soon as the festivities were over), watched the ball drop in Times Square - none of the kids realized it was pre-recorded and headed out for the total of 3-minutes it took to pull all the poppers and litter the front porch and snow with confetti. It was so freezing cold it was hard for the kids to enjoy it. My littlest refused to even consider holding one or pulling the rip cord. We piled in the car and headed for home watching neighborhood fireworks the whole 1/2 mile home. All vP kiddos were in bed by 12:10 am. BE and I took a bit longer to unload the car, clean, pick up, transfer laundry and finally collapse around 1:00 am. We had a good night - too much good food: homemade buffalo wings, dips, hamburgers, freshly made french fries, Martinellis, chocolates, egg nog and assorted snacks.
2007 was a good year! 2008 will only be better. Topping the resolution list for all is to lose 30 lbs by the family reunion in August. D, T, BE, Nana, Pops and I are all 'in' on this one. If we pull together it can be done. Gotta 'de junk' the house. I pray all challenges can be met with my backpack full of emotional and mental tools at the ready and if my bag is empty I will be able to find friends and family behind me with bags full. My wish for all of you is the same and more. The hills and valleys will come - may we have our heads up to see them! TTFN!